×
We will be closed from 23rd December and will re-open on 27th December. Our Billingham practice will reopen on 27th, 28th & 29th December and then again on 2nd January. Our Yarm and Jesmond practices will be closed from 23rd December until 2nd January. Emergency calls for patients of Queensway Dental: 01642 554667.
We wish you and your families a safe and very Merry Christmas and a Happy New Year!
Queensway Dental Laboratory
The team at Queensway Dental Laboratory consists of passionate university graduates and experienced professionals with over 200 years of experience between them. We draw upon this wealth of experience to provide superior-quality, aesthetic results.
We are constantly refining our processes and techniques to deliver the best possible outcome for our clients. Our on-site location at Queensway Dental Clinic has allowed us to greatly increase our knowledge by working alongside a multi-disciplinary team.
What sets our lab apart
Here are just a few of the things that set our lab apart from the pack:
We learn
We place great importance on continuing education, and our highly skilled professionals regularly attend courses worldwide to further their knowledge. We also welcome guest speakers and trainers to our laboratory so we can benefit from their expertise.
Along with trainers from GC and Ivoclar, we are fortunate to work with renowned New York technician Peter Pizzi, who has delivered exceptional hands-on training for our team.
Members of our team also speak and teach on behalf of global organisations including Nobel Biocare and Bredent, allowing us to share our skills and knowledge with others.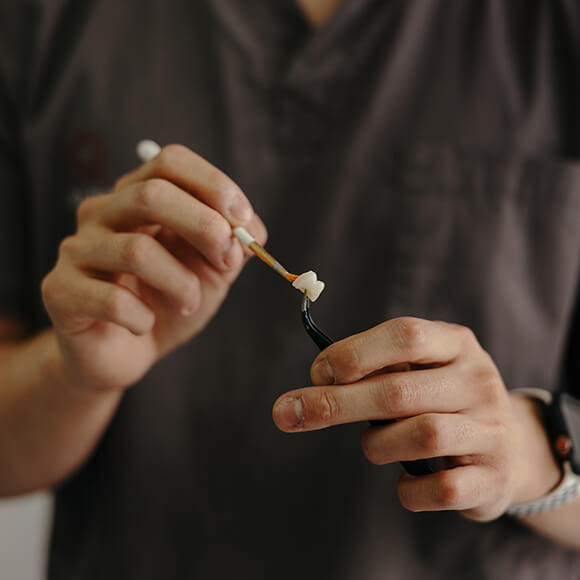 We invest
We support our team in delivering the very best results by continually investing in the latest equipment, technology and materials.
These investments include:
NobelProcera 2G Scanner & Nobel Design 2G Scanner – Used to design implant abutments, crowns and bridges in both titanium and zirconia.
GC Aadva Scanner – Used to CAD design all crown and bridge frameworks in a wide range of materials including zirconia, titanium, cobalt chrome and acrylic.
Bredent Thermopress – Used to produce clear flexible frameworks and the addition of flexible and clear tooth coloured clasps to cobalt chrome partial dentures.
Bredent For2Press – Used to process high-performance polymers suitable for large implant prostheses.
Ivoclar Ivobase – Used to produce injection-moulded, high-impact dentures. Closed-flask injecting allows for precision processing with no raised bites.
Vision Engineering Mantis Stereo Microscopes – Used for precise magnification when working.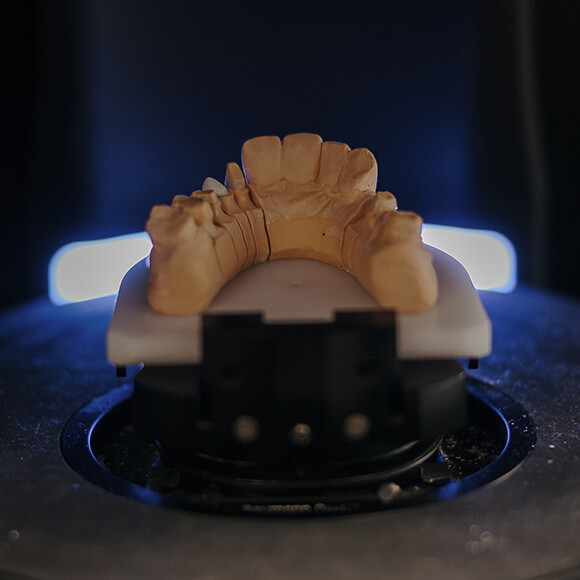 We perfect
The key to any great dental restoration is accuracy. This is why we weigh our dental stone powder-to-water ratios to the exact manufacturer's instructions, ensuring total consistency across all of our cases.
We also guarantee a precise fit for our patients by casting crown and bridge impressions from the same die stone as our working casts. It is this attention to detail and accuracy that helps to set us apart from other dental laboratories.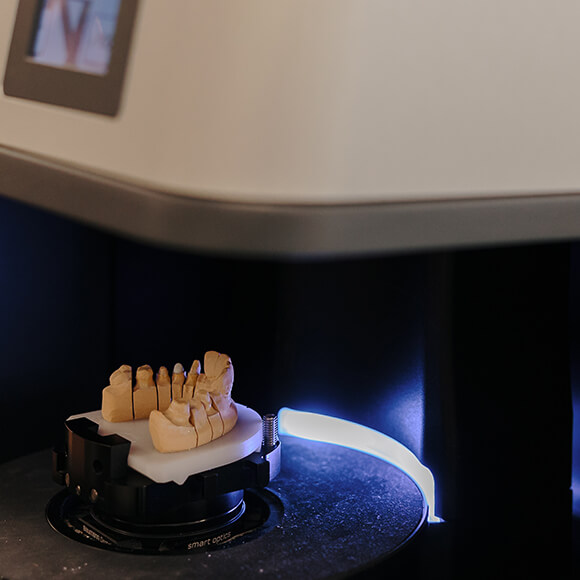 Our highly
skilled lab team
Here is some of the incredible talent in our Billingham laboratory:
The only registered KOIS specialist in the UK
We are the only lab in the UK to have a 'KOIS Registered Specialist'.
Our managing director, Richard Elliott, studied a comprehensive nine-course curriculum at the KOIS Center in Seattle, covering aesthetic, occlusion and restorative dentistry.
The course taught clear protocols for managing complex dental cases, and has allowed for the implementation of KOIS principles to the laboratory. This helps us achieve consistently outstanding results for both clients and patients alike.
Our crown and bridge team
Our skilled crown and bridge team provides a full range of ceramic solutions from single unit crowns to full-arch, implant-supported restorations. We have built a strong reputation for providing exceptional service and results through our innovative approach.
Our complex ceramic systems are chosen on a case-specific basis. These include:
Ivoclar InLine – porcelain bonded to alloy restorations
Ivoclar e.max Ceram – layered e.max and zirconia restorations
GC LiSi – layered e.max and zirconia restorations where a stronger chroma is required
GC Initial Ti – specific ceramic for directly bonding to titanium implant restorations.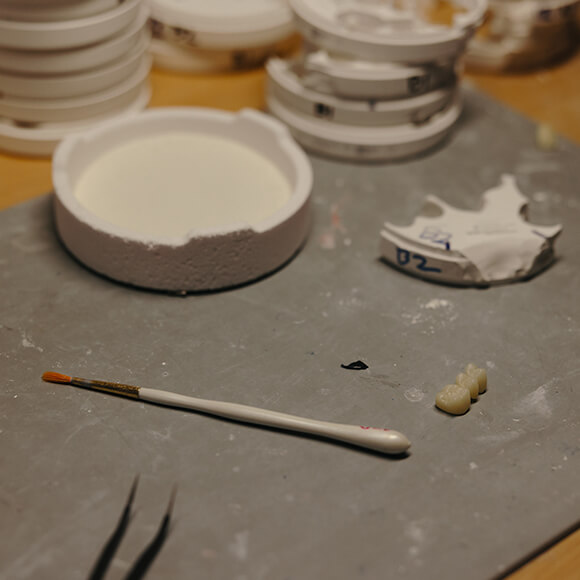 Our prosthodontic team
Our prosthodontic department uses the latest technology and materials to provide natural, removable prostheses. We have the skill, knowledge and expertise necessary to ensure results that exceed expectations.
Our prosthodontic systems include:
Ivoclar Ivobase – high-impact injection moulding system
Bredent Thermopress thermoplastic system – clear flexible partial dentures
Ivoclar, Mertz, and Enigma Life – cutting-edge aesthetic dentures
Bredent Crea.lign and Ivoclar Nexco - composite systems for customising pink aesthetics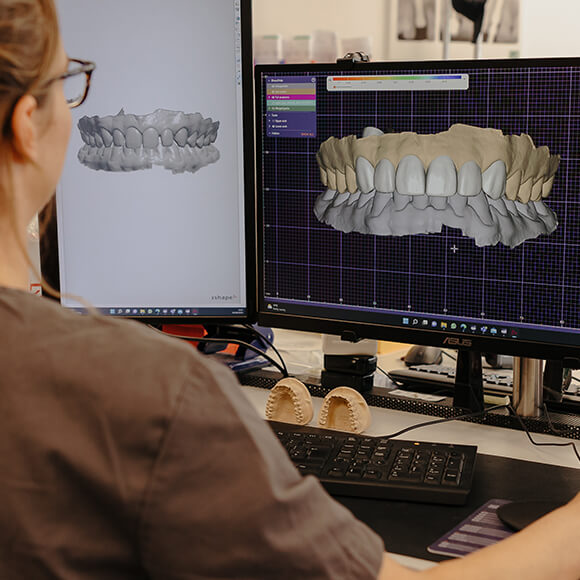 Our implant team
Our implant team has extensive knowledge and technical expertise in all aspects of restoring implants, from treatment planning to delivering finished cases. We work closely with our clients at every stage to ensure consistent, high-quality results.
We use CAD/CAM technology to deliver the high level of precision and accuracy needed to create a successful implant case. This technology includes the use of:
Nobel Design
NobelProcera
Open EXOCAD software partners
Createch
Atlantis
Dentsply ISUS
And both domestic and international third-party milling centres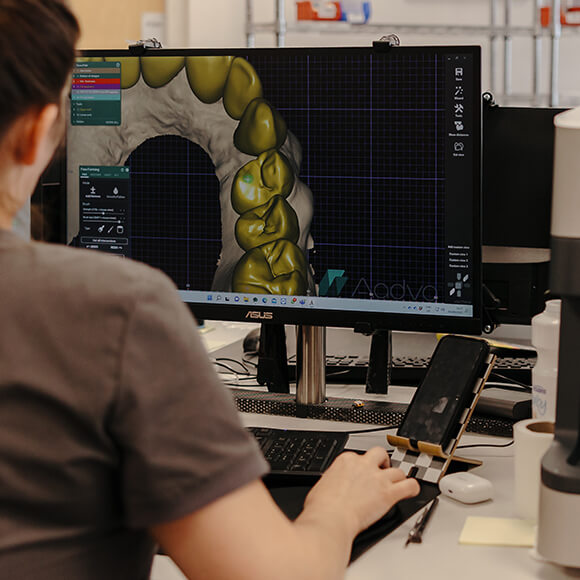 Ask us more about
our dental laboratories
We're happy to tell you anything you'd like to know about our on-site dental lab in Billingham. Ask our team today!
Contact us