×
We will be closed from 23rd December and will re-open on 27th December. Our Billingham practice will reopen on 27th, 28th & 29th December and then again on 2nd January. Our Yarm and Jesmond practices will be closed from 23rd December until 2nd January. Emergency calls for patients of Queensway Dental: 01642 554667.
We wish you and your families a safe and very Merry Christmas and a Happy New Year!
Dental Implants
Permanent smile solutions - custom-made in house
If you're looking for a permanent solution to missing teeth, you've come to the right place!
At Queensway we have over 80 combined years of dental implant experience and our clinicians have trained around the world with leaders in the field to ensure we deliver the best possible care and results for our patients.
What's more, we work alongside Queensway Dental Laboratory, which is a state-of-the-art facility based on-site at our Billingham practice. For our patients, this ensures a seamless implant journey, that you are involved in every step of the way.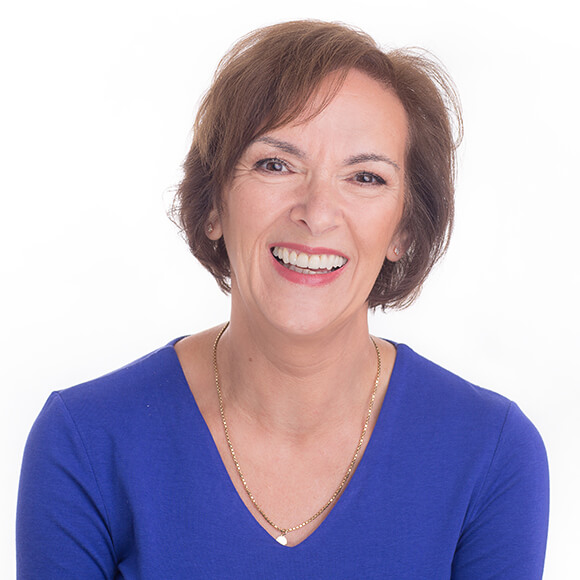 Why Choose Queensway
Dental for Dental Implants?
80+ years combined implant experience
Training with world-leaders in the field
On-site dental laboratory
3D imaging and digital planning
Recognised as an All-on-4® center of excellence
Sedation options available for nervous patients
Support from an implant trained hygiene team for aftercare and maintenance
Peace of mind with a Queensway guarantee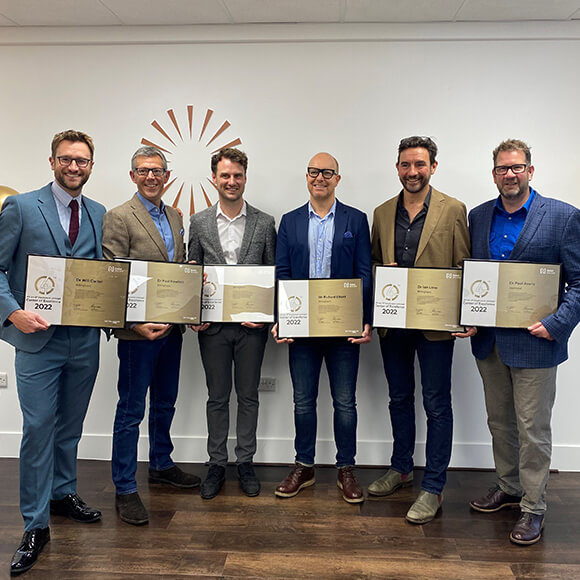 What are
dental implants?
Dental implants are a used to permanently replace damaged or missing teeth. They have a small metal screw that is surgically placed into the jawbone to act like an artificial tooth root and the restoration (either a 'crown' or 'bridge' is placed on top. At Queensway we have a range of dental implant solutions made right here in our dental laboratory for a precise and natural fit.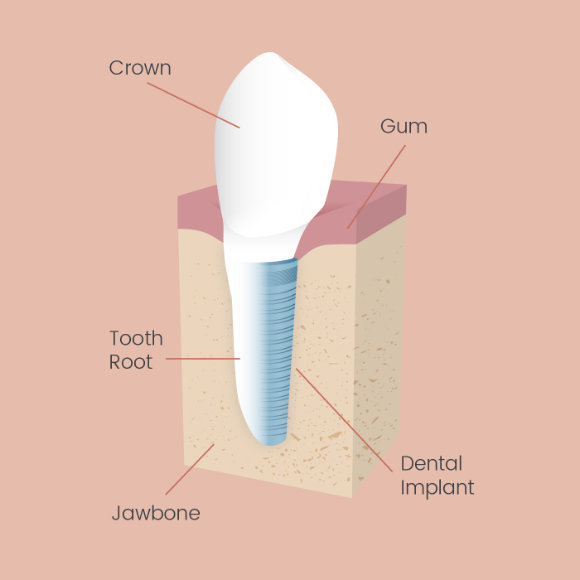 Are dental implants
right for me?
Deciding to have dental implants is a big and often life-changing decision. Whether you have one or a number of missing/failing teeth, dental implants could be the right option for you. Your suitability will be determined by the dentist in your clinical assessment.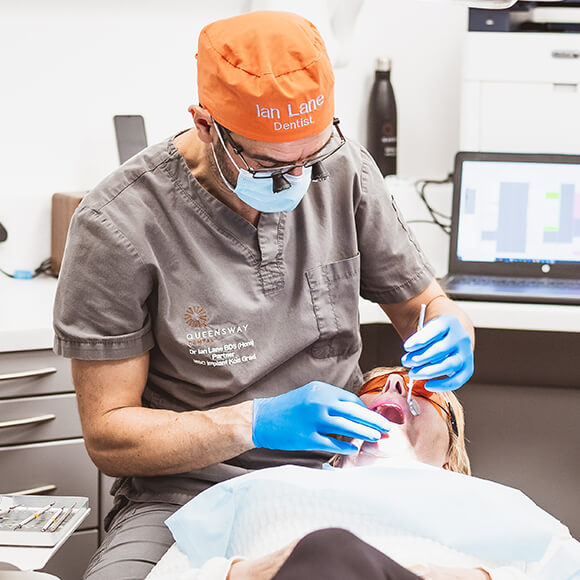 Dental Implant Options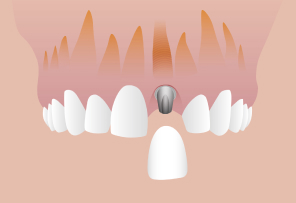 Single Implants
This involves placing a single dental implant in the mouth before a healing period of between six weeks to six months before the final restoration is fitted. During this period you will have a temporary tooth to fill the gap. In some cases the healing period is not needed, but this will be advised by your dentist.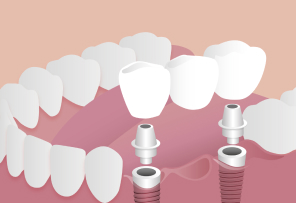 Implant-supported bridge
An implant-supported bridge is similar to a regular dental bridge, but is supported by implants and not by natural teeth. In most cases, when an implant-supported bridge is used, two dental implants can support a connected crown. We have the technology and expertise to digitally plan the implant location and angulation before placement to achieve the best possible end result.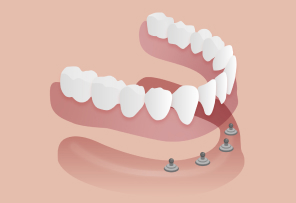 Mini-dental implants
Mini-dental implants have the same structure as regular implants, but are slightly smaller in form and therefore a less invasive procedure. The components of mini-implants have two parts, a titanium post with a ball on the end and a socket with a rubber O-ring that attaches the tooth to the post. What's more, if you currently wear a denture, we might be able to work with this to further save on costs.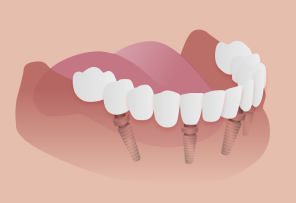 All-on-4® (Same day teeth)
This involves placing several dental implants across the jaw and then fixing a temporary bridge on the same day, which is left to integrate into the jaw for 3-6 months before a final bridge is constructed. This is not suitable for everyone, but offers a solution for people with no or very few natural teeth remaining.
All-on-4
dental implants
All-on-4® treatment is a long-lasting solution for replacing loose, rotten, missing or failing teeth with a full set of dental implants in one day. Yes that's correct, patients arrive in the morning, and leave in the afternoon with a brand new smile and their confidence restored.
You might also hear All-on-4® treatment referred to as same-day smile, teeth in a day and full mouth dental implants.
The technique uses four or six dental implants to replace a whole arch of missing teeth and replaced with a temporary bridge - all in the same day. After a healing period of 3-6 months, a final bridge is then fitted. Different material options are available and we will discuss the pro's and con's of each at the clinical assessment so you can make an informed decision of what would be best for you.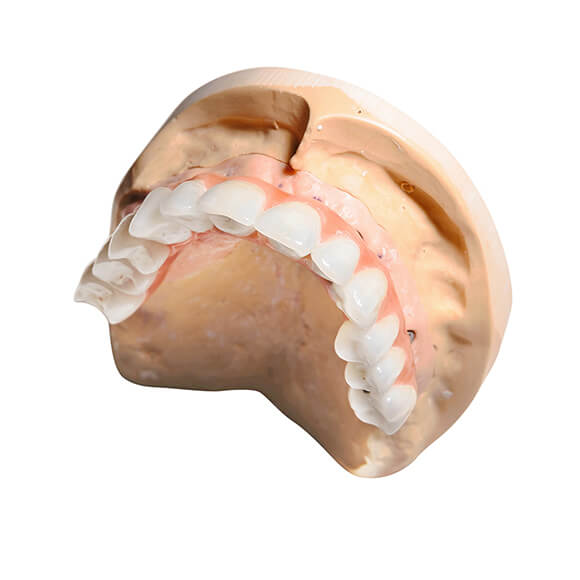 Benefits of
dental implants
Dental implants are a popular option because they:
Help prevent bone loss
Restore full functionality of your mouth
Help you return to a normal diet
Can be used in place of dentures
Prevent sagging or hollow cheeks
Are safe and comfortable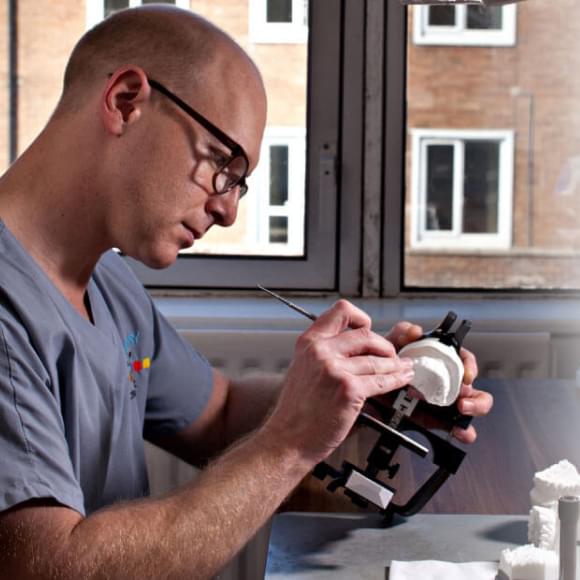 Find out which
implant treatment is best
for you
Book a free consultation with the Queensway Dental team to find out which implant treatment could benefit you most.
Book a free consultation