×
We will be closed from 23rd December and will re-open on 27th December. Our Billingham practice will reopen on 27th, 28th & 29th December and then again on 2nd January. Our Yarm and Jesmond practices will be closed from 23rd December until 2nd January. Emergency calls for patients of Queensway Dental: 01642 554667.
We wish you and your families a safe and very Merry Christmas and a Happy New Year!
Tooth whitening
Effective, professional whitening treatment
Over time, food, drink, smoking and even genetics can cause your teeth to discolour. Fortunately, it's easy to turn back the clock on tooth stains with professional tooth whitening treatment.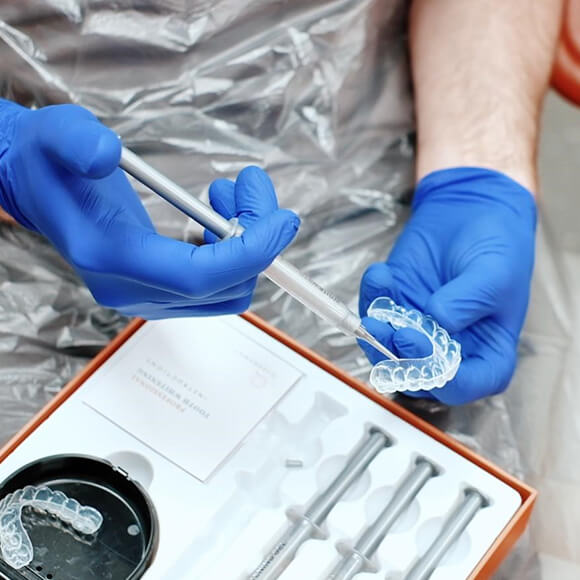 What is tooth
whitening treatment?
Tooth whitening treatment brightens your smile by up to eight shades. The process uses a powerful but safe dental solution to remove stains and discoloration - returning your teeth to their original colour.
Because we use professional whitening chemicals, the General Dental Council (GDC) has advised that tooth whitening treatment should only be carried out by a registered dental professional, which is exactly what we are at Queensway Dental.
Once we've given you your whitening kit, we will give you detailed instructions for how to use it at home. We will even create custom whitening trays for you to use.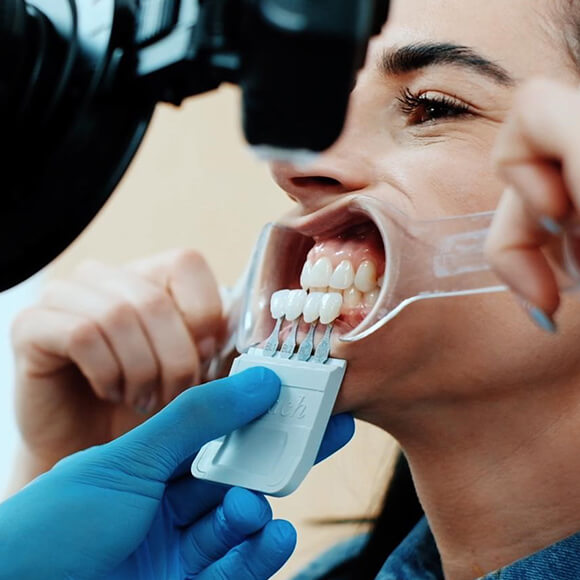 How effective is
tooth whitening?
Tooth whitening is incredibly effective. The results you achieve (and how long it takes to achieve them) will depend on the current condition of your teeth. Our dentist can assess your smile and let you know exactly what to expect from your tooth whitening treatment.
If you can't achieve the results you want through tooth whitening alone, it may be used in conjunction with other cosmetic treatments such as veneers or composite bonding.
We can make recommendations at your free consultation.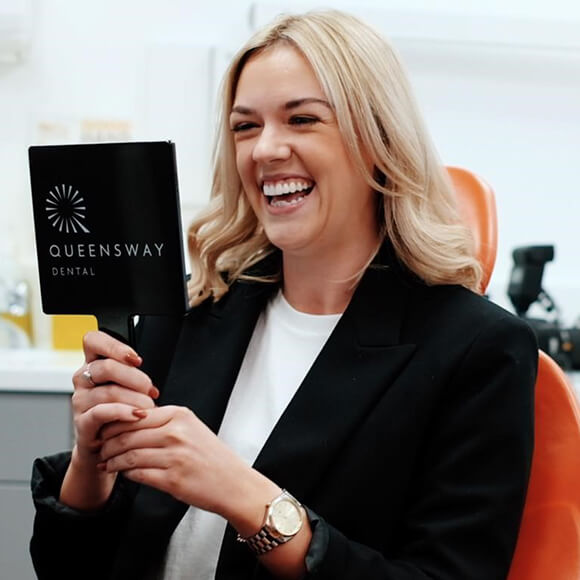 Can whitening fix
white spots on my teeth?
White spots usually form due to dental fluorosis, calcification, or the onset of caries. Luckily, we have an effective whitening treatment to even out the colour of your teeth.
We can use an etching gel and liquid resin to gently infiltrate your enamel. This resin, called icon, will then be cured with light until it visually matches the shade of your tooth. The treatment is simple and swift and can be carried out in one visit.
For best results, we may recommend this treatment along with our at-home whitening kits.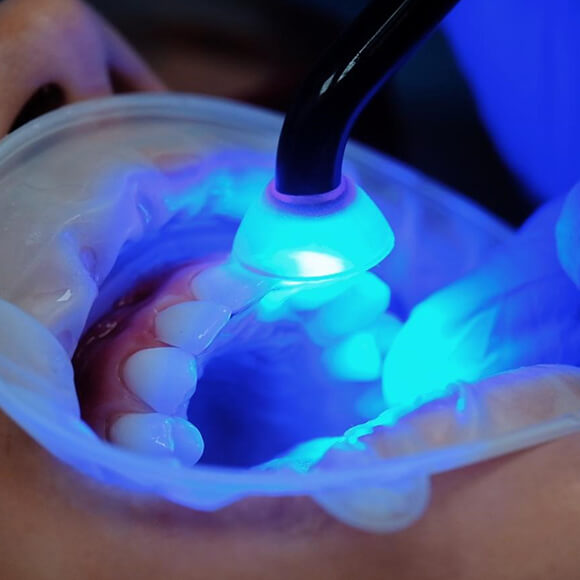 Brighten up
your smile
Schedule a free consultation to start your journey to a brighter, whiter smile.
Book a free consultation