×
We will be closed from 23rd December and will re-open on 27th December. Our Billingham practice will reopen on 27th, 28th & 29th December and then again on 2nd January. Our Yarm and Jesmond practices will be closed from 23rd December until 2nd January. Emergency calls for patients of Queensway Dental: 01642 554667.
We wish you and your families a safe and very Merry Christmas and a Happy New Year!
Veneers
In-house, no-prep veneer options
Using the latest techniques in smile design, and the highest quality materials in our dental laboratory, we can achieve the smile you've always wanted with dental veneers. Whether you want a complete smile makeover, or are looking to make a small change, our team can help.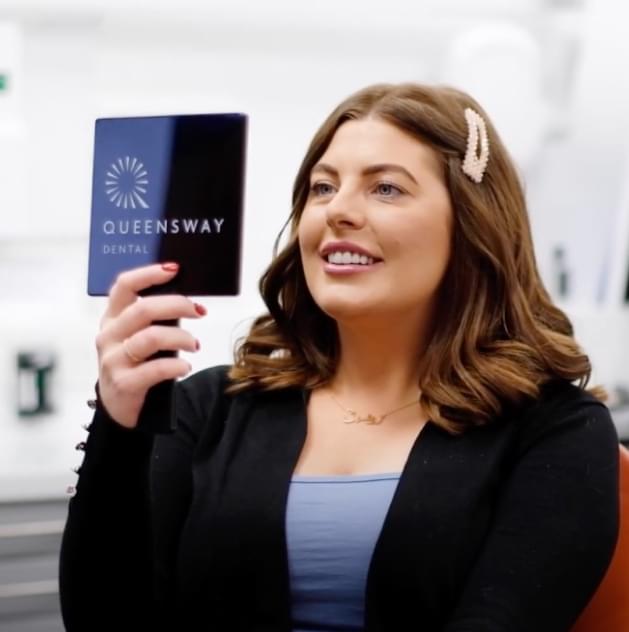 What are veneers?
Dental veneers are custom tooth-coloured shells that are fixed to the front surface of your teeth. They can help you create a brighter, more symmetrical smile. Veneers are often used to treat:
Broken or chipped teeth
Uneven colouring that can't be fixed with tooth whitening
Teeth with uneven size
Gaps between teeth
Unusually shaped teeth
Dental veneers are bonded to your teeth, and some forms of veneers require us to prepare the tooth structure before placement. This procedure may require some local anaesthetic to ensure your comfort.
Our team can talk you through the veneer options at our practice to help you decide which one is best for you.
What are the different
types of veneers?
Here are some of the veneer types we offer at Queensway Dental:
Porcelain veneers
These are traditional veneers made out of porcelain that require some tooth grinding for proper placement.
Composite resin veneers
Composite resin veneers are made from a thin layer of composite material that can be built up to achieve your desired look. We will etch your teeth prior to placement to ensure a solid fit, layer on composite, and cure the veneers with a special light to harden them.
No-prep veneers
No-prep veneers do not require us to remove any layers of tooth under the enamel - they only affect the enamel itself. In most cases, no-prep veneers don't require any local anaesthetic or temporary veneers, making them faster and less invasive to apply.
PMMA veneers
PMMA veneers are a cutting-edge cosmetic option. They are made in our lab using in-house digital technology, and don't require any preparation to place. If PMMA veneers are right for your smile, we'll design them for you using digital scans we take during your free consultation.
We can use temporary material to show you exactly what your veneers will look like, and we can make adjustments until you are happy with the outcome. Once you've approved your custom veneers, we will manufacture them in-house in just a few weeks.
PMMA veneers are longer lasting and more stain resistant than other options, and if you ever damage or lose one, we can remake it for you with ease!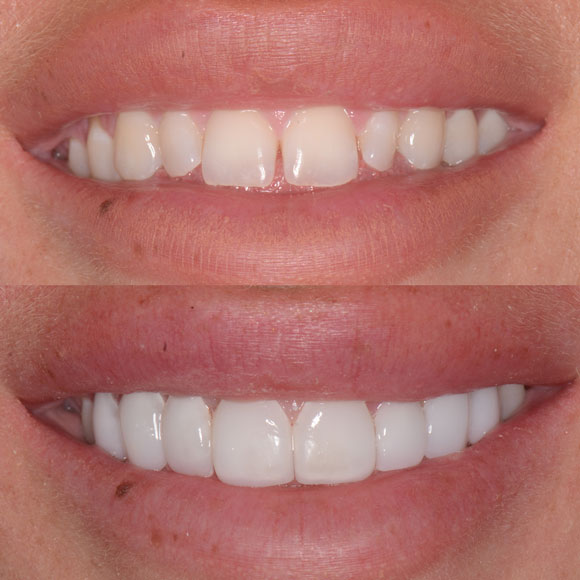 How to take care
of your veneers
In order to extend the life of your dental veneers, you should follow these tips:
Don't use your teeth to open any packaging.
Don't chew on your fingernails, pen caps or ice cubes
Try to chew harder foods with your back teeth only, and cut up hard foods when possible
Use a retainer or splint to protect your teeth if you grind or clench at night
Make sure to wear a mouthguard if you play sports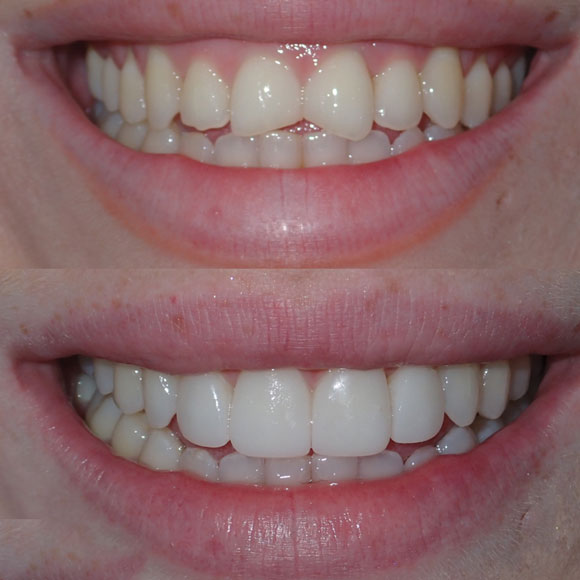 Which veneers
are best for you?
Book a free consultation to find out what type of veneers would be best for you and your smile.
Book a free consultation